Berries may be better than you thought
Elena Harrington

/

Jan 26th, 2016
Can Flavonoid-Rich Foods Protect Your Heart?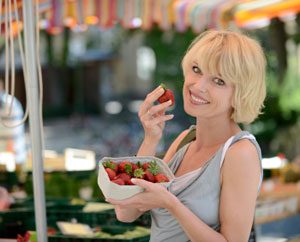 Risk for heart and vascular disease such as stroke is directly tied to what people eat
Could one or two servings of
berries
a day help lower your risk for
heart disease
? A study in
The American Journal of Clinical Nutrition
suggests that people may get some extra heart protection if they eat a lot of foods rich in
flavonoids
(health-promoting compounds found in certain foods).
Flavonoids linked to healthier arteries
Risk for heart and vascular disease such as stroke is directly tied to what people eat and how well their arteries function. So it's important that to eat well for healthy arteries!
In this study, researchers looked at the association between the amount of flavonoid-rich foods eaten and artery function. Specifically, 1,898 women (ages 18 to 75 years) recorded the types of foods they ate in food-frequency questionnaires. Researchers looked at the amount of flavonoids eaten and measured artery function. Four common anthocyanin-rich foods and beverages that consumed by participants were grapes, pears, wine, and berries such as strawberries and raspberries.
Compared with people who ate the least, study results suggest that anthocyanins and flavones may have a beneficial impact on artery function:
Central systolic blood pressure was lower in people who ate the highest amount of anthocyanins.
An indicator of artery function (pulse-wave velocity) was better in people who ate higher amounts of anthocyanins and flavones.
The study authors suggest that anthocyanins "could be incorporated into the diet by the consumption of 1 [to] 2 portions of berries daily and are, therefore, relevant for public health strategies to reduce cardiovascular disease risk." They caution that a direct cause and effect cannot be proved by this observational study alone and add that their findings highlight the need for more research on flavonoid-rich foods that may help prevent disease.
Steps to reduce risk
A balanced diet rich in vitamins, minerals, and other nutrients is one essential part of preventing heart disease and stroke. Other actions you can take to lower your risk include:
Don't smoke, overeat, or drink excess alcohol.
Do get regular exercise, maintain a healthy weight, and reduce the stress in your life.
Talk with a healthcare professional about a diet that is appropriate for you and with a doctor about preventive screening tests, such as checking cholesterol levels and blood pressure to detect and treat medical conditions early on.
(Am J Clin Nutr 2012;96:781–88)
Jane Hart, MD, board-certified in internal medicine, serves in a variety of professional roles including consultant, journalist, and educator. Dr. Hart, a Clinical Instructor at Case Medical School in Cleveland, Ohio, writes extensively about health and wellness and a variety of other topics for nationally recognized organizations, websites, and print publications. Sought out for her expertise in the areas of integrative and preventive medicine, she is frequently quoted by national and local media. Dr. Hart is a professional lecturer for healthcare professionals, consumers, and youth and is a regular corporate speaker.