Build Your Own First Aid Kit
Albertsons Pharmacy

/

Jun 28th, 2016
First Aid Kit Buying Guide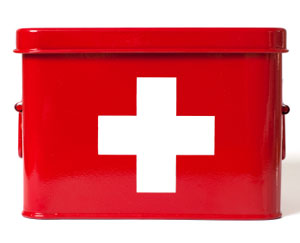 What are the essential recommended items you should have in your first aid bag? If you can't think farther than adhesive bandages, you're not alone. Read on for tips to create a complete first aid kit from scratch or to select the right all-in-one products to meet your family's first aid needs. When selecting first aid products, keep the following mind:
Remember that first aid is just that—first aid. For more serious injuries or illnesses, get to the doctor, urgent care clinic, or emergency room as soon as possible.
Keep a written list of your family members' unique first aid needs with your kit. This might include allergies to bee stings or insect bites, asthma, and medication allergies or intolerances.
Many cuts, scrapes, mild sprains, and strains can be treated at home, but puncture wounds are a different story. These injuries introduce bacteria deep into body tissues and require professional medical care to avoid serious complications.
Treat animal bites first at home, but follow up with your doctor, even if the bite seems minor. Animals in general, and cats in particular, may have dangerous bacteria and viruses in their mouths, which can lead to serious, and even life-threatening infections.
Any injury that results in major swelling, misshapen joints or bones, or severe bruising requires medical attention.
First Aid Essentials

What they are: Here are the ten first aid essentials that the American Red Cross recommends everyone keep on hand:

A first-aid instruction booklet
Latex-free disposable gloves
Antiseptic wipes
Triple antibiotic ointment or cream
Adhesive bandages in a variety of sizes
Sterile gauze pads in a variety of sizes and cloth or adhesive tape to secure them
A digital thermometer or thermometer strips (avoid mercury, as it is hazardous if broken)
Tweezers
Topical (applied to the skin) antihistamine and pain reliever creams
A face mask for protection from bodily fluids when administering CPR

In addition to these ten, many health experts also recommend that first aid kits include a gauze roll; eye shield, eye pad, or eye wash; triangular material for making slings; sterile cotton balls and cotton swabs; an instant cold pack; or pain relievers; oral antihistamines and decongestants; antinausea and motion sickness medication; antidiarrhea medication; antacids; laxatives; safety pins; a suction bulb; finger splints; small scissors; a space blanket; hand sanitizer; saline solution; calamine lotion; and a list of emergency numbers.

Why to buy: Having at least the ten essentials of a first aid kit plus a few of the additional recommended items means you will be prepared when accidents happen. You'll be calmer when a family member or friend needs first aid if you know you have what you need readily available to handle the situation.

Things to consider: If family members have an allergy to specific medications, do not keep these in your first aid kit. Skip the aspirin if you have teens and younger kids, because this medication is not safe for children. Opt for acetaminophen or other child-safe pain relievers. Remember to replace items after you use them. At least once a year, go through your kit and replace any products that have passed their expiration date.

First Aid Kits

What they are: All-in-one first aid kits are a good option for getting the essentials you need quickly. Examples of first aid kits include:

All-purpose
Car and travel
Outdoor activities (such as camping and hiking)
Sport-specific
Professional
CPR (cardiopulmonary resuscitation)

Why to buy: If you're creating a first aid kit from scratch, an all-in-one kit may be the most economical option. If you have a specific purpose in mind for your kit, one designed for that purpose will have the specialty items you need in one place. All-in-one kits keep everything in one place and allow you to "grab and go," on the way out the door, to a child's soccer match or before a road trip, for example.

Things to consider: The larger or more complicated the first aid kit, the more expensive it will be. Don't get one with more things in it than an average person might really need or feel comfortable using. For example, if you get queasy at the sight of blood or know you aren't qualified to perform CPR, an expensive professional-grade or CPR-specific first aid kit is probably money not well spent.