Link between Olive Oil and Heart Disease
Elena Harrington

/

Jan 26th, 2016
Whole Grains Protect against Heart Disease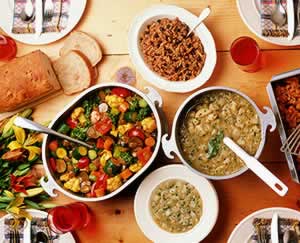 With lots of media attention on whole foods, it's easier than ever to find whole grain versions of your favorite foods in stores
It's been all over the news for years: eat more whole grains to protect your heart, lower cholesterol, and ward off chronic disease. But there haven't been many studies actually showing how much and what types of whole grains provide this protection, until now.
"Our findings have important public health implications and provide a sound scientific basis for advising the daily consumption of three servings of whole grain foods to combat cardiovascular disease," said UK researchers in a study in the American Journal of Clinical Nutrition.
When it's better to be unrefined
The new trial aimed to see how diets rich in whole grains (whole wheat, with or without oats) stacked up against a refined grain diet when it comes to heart disease risk.
More than 200 middle-aged people at risk for heart disease were divided into three groups:
one group was advised to eat whole wheat products three times per day (comprising 80 grams of whole wheat bread and 40 grams of whole wheat cereal),
another group had one serving of whole wheat and two servings of oats, and
the third ate a diet including refined cereals and white bread.
Blood pressure, cholesterol, triglycerides, and measures of inflammation and insulin sensitivity were assessed throughout the 12-week study.
By the end of the study, systolic blood pressure (the top number in a blood pressure reading) decreased significantly in both whole grain groups compared with the refined grain group, translating to a projected 15% reduction in coronary artery disease incidence and 25% decrease in stroke incidence. (Other markers of cardiovascular disease risk remained unchanged in all groups, except for cholesterol levels, which actually went down in the refined grain group.)
People eating the refined grain diet got more vitamin D and B vitamins in their diets, but this didn't seem to affect blood pressure levels. "This may indicate that the potential bioactivity of the micronutrients (vitamins and minerals) is more marked when part of the natural grain product is present compared with the fortified food," said the authors.
How to get those grains
With lots of media attention on whole foods, it's easier than ever to find whole grain versions of your favorite foods in stores.
Here are a few places that you can focus on whole grains that can make a big difference in your health.
Choose whole wheat or other whole grain pastas. These have come a long way over the years, and many brands have perfected a smooth texture much like that of traditional white pasta.
Get into porridge. A simple way to meet your whole grain quotient is by choosing a hot cereal for breakfast. These come in whole wheat, 7-grain, and of course the old standby, oatmeal.
Switch to whole grain breads. You might have to get used to the nuttier flavor and darker color, but whole grain bread is a taste you won't want to go back on. For choosy children (or if you really have the hankering for a softer consistency), give white whole wheat bread a try. White whole wheat flour also substitutes well in any recipe calling for white flour.
(Am J Clin Nutr 2010;92:733–40)
Kimberly Beauchamp, ND, is a licensed, board-certified naturopathic physician with a passion for real food. Dr. Beauchamp received her doctoral degree from Bastyr University, the nation's premier academic institution for science-based natural medicine. She co-founded South County Naturopaths in Wakefield, RI, where she practiced whole family care with an emphasis on nutritional counseling, herbal medicine, detoxification, and food allergy identification and treatment. Her blog, Eat Happy, helps take the confusion out of healthful eating with real food recipes and up-to-the minute nutrition news that you can use.