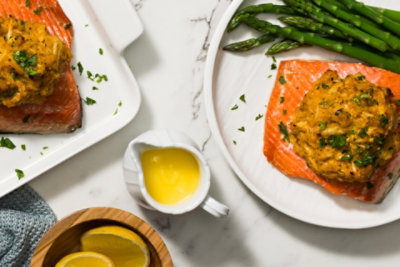 Crab Stuffed Salmon
This Cajun Crab Stuffed Open Nature® Salmon is stuffed with an irresistible creole-spiced crab bread crumb filling then topped with a delicious decadent lemon butter sauce. This is an easy and elegant recipe that is a crowd favorite!
Total original price
* Estimated price based on adding all ingredients to cart.
For the Salmon
3 tablespoons O Organics® salted butter divided
1 tablespoon O Organics® olive oil
8 ounces Waterfront Bistro® jumbo lump crab
10 O Organics® Classic Round crackers crushed (a little over 1/2 cup)
1 shallot finely chopped
2 garlic cloves minced
1/3 cup O Organics® mayo or Open Nature ® greek yogurt
2 tablespoons hot sauce
1 tablespoon freshly chopped parsley
2 teaspoon cajun seasoning divided
1 teaspoon O Organics® garlic powder
1 teaspoon O Organics® onion powder
1 teaspoon Old Bay
1/2 teaspoon O Organics® cumin
Juice of 1/2 lemon
4 (8 oz) Open Nature® salmon fillets
For the Lemon Butter (optional)
6 tablespoons cold O Organics® unsalted butter sliced and divided
1 tablespoons finely chopped shallots
1 garlic clove minced
3 tablespoons dry white wine
1 1/2 tablespoons fresh lemon juice
1/2 teaspoon cajun seasoning
Cooking Instructions
Step 1 :: For the Salmon
Preheat the oven to 425.
Step 2 :: For the Salmon
Heat 1 tablespoon of butter along with olive oil in a medium saucepan over medium high heat then saute crab, crushed crackers, shallot and minced garlic until there is some color then set aside.
Step 3 :: For the Salmon
Add mayo (or yogurt), hot sauce, parsley, 1 teaspoon of cajun seasoning, garlic powder, onion powder, Old Bay, cumin and lemon juice to a medium bowl and whisk until completely combined.
Step 4 :: For the Salmon
Next fold in crab cracker mixture until combined.
Step 5 :: For the Salmon
Line a baking sheet with parchment paper then using a paring knife, slit a pocket into the center of each salmon fillet and fill with crab filling.
Step 6 :: For the Salmon
Sprinkle the remaining cajun seasoning on top of the fillets then divide 2 tbsp remaining butter and add to the top.
Step 7 :: For the Salmon
Bake for 20 minutes.
Step 8 :: For the Lemon Butter
In a saucepan over medium heat, add 1 tablespoon of butter then add shallots and minced garlic clove and saute until tender and fragrant.
Step 9 :: For the Lemon Butter
Next add wine, lemon juice along with cajun seasoning and bring to a boil for a few minutes then turn off the heat and add the rest of the butter and whisk together and serve with salmon.
Step 10 :: Helpful Hints
Leftover salmon should be refrigerated within 2 hours of having been cooked. Tuck your leftovers in an airtight container where it will keep for up to 3 days.
Step 11 :: Helpful Hints
Tip: It's best to reheat salmon in the oven! To do so, preheat the oven to 275 degrees and place the fish on a parchment paper-lined baking sheet. Heat for 15 minutes, or until the internal temperature reaches 130 degrees.
All recipe ingredients should be cooked to a safe internal temperature according to USDA guidelines. After preparing a recipe, please store any leftovers in the refrigerator.