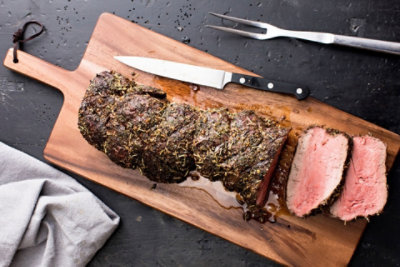 Grill Mates® Grilled Montreal Beef Tenderloin
Grill Mates® Montreal Steak Seasoning, rosemary and parsley give tenderloin steaks sensational flavor that's good enough for company.
1 hour, 5 mins
Total cook time
Total original price
* Estimated price based on adding all ingredients to cart.
Main Ingredients
3 tablespoons McCormick® Grill Mates® Montreal Steak Seasoning
2 tablespoons McCormick® Parsley Flakes
1 tablespoon McCormick® Rosemary Leaves
3 tablespoons olive oil
1 beef tenderloin (about 5 pounds) , trimmed
Cooking Instructions
Step 1
Mix Seasoning, parsley and rosemary in small bowl. Brush tenderloin with oil. Rub seasoning mixture evenly over beef tenderloin. Fold thin end of tenderloin underneath. Tie with butcher's twine, then tie with twine every 2 inches, so roast keeps its shape. Let beef stand at room temperature for 30 minutes before grilling.
Step 2
Prepare grill for indirect heat (about 325°F). Preheat grill by turning all burners to medium. Turn off burner(s) on one side. Place beef on unlit side of grill. Close grill.
Step 3
Grill 40 to 45 minutes or until internal temperature of thickest part of roast is 125°F, turning occasionally if needed for even cooking. Move roast to lit side of grill. Turn lit side of grill to high.
Step 4
Grill, uncovered, an additional 8 to 10 minutes or until roast is slightly charred and has reached desired doneness, turning once. Let stand 15 minutes before slicing.
Step 5 :: Helpful suggestions
Trimmed beef tenderloins are available for purchase in the supermarket meat case. If the beef tenderloin is untrimmed, ask the butcher to help you select and trim the meat so it yields a 5 to 6-pound beef tenderloin.
All recipe ingredients should be cooked to a safe internal temperature according to USDA guidelines. After preparing a recipe, please store any leftovers in the refrigerator.