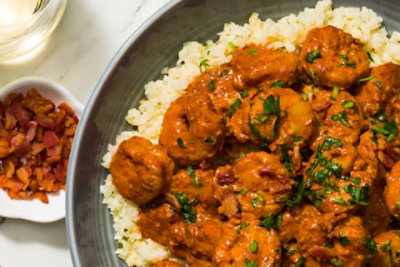 Keto Shrimp and Grits
This decadent Keto Shrimp and Grits recipe pairs cajun spiced Open Nature® shrimp with a flavorful sauce served over cheesy and creamy low carb O Organics® cauliflower "grits" to keep your waistline in check. This rich Southern favorite proves that eating healthier can still be indulgent. Recipe Courtesy: Jocelyn Delk Adams of Grandbaby Cakes
Total original price
* Estimated price based on adding all ingredients to cart.
Shrimp
3 Open Nature® bacon strips diced in small pieces
1 tablespoon O Organics® salted butter
1/4 onion finely diced
1 lb Open Nature® shrimp peeled and deveined
2 teaspoon cajun seasoning plus more to taste
1/2 teaspoon O Organics® paprika
1 tablespoon minced garlic
1/4 cup O Organics® chicken stock
2 teaspoon fresh lemon juice
1/2 cup O Organics® heavy whipping cream
1/4 teaspoon chicken bouillon seasoning st
fresh parsley for serving
Cauliflower Grits
24 ounces O Organics® frozen riced cauliflower
4 tablespoon O Organics® salted butter
1/2 cup O Organics® white cheddar cheese
1/3 Cup O Organics parmesan cheese®
4 tablespoon O Organics® heavy whipping cream
1/4 teaspoon O Organics® garlic powder
Cooking Instructions
Step 1 :: For the Shrimp:
Add bacon to large pan over medium heat and fry until golden brown. Remove bacon with a slotted spoon and drain on paper towels leaving the drippings in the pan.
Step 2 :: For the Shrimp:
Add butter to drippings and allow to melt then saute onions until tender.
Step 3 :: For the Shrimp:
While onions saute, season shrimp with cajun seasoning and toss in seasoning then set aside.
Step 4 :: For the Shrimp:
Next add garlic and saute for about 30 seconds.
Step 5 :: For the Shrimp:
Finally add shrimp to pan and cook only about 1 ½- 2 minutes per side then remove.
Step 6 :: For the Shrimp:
Add chicken stock and lemon juice and deglaze pan getting up all of the flavor that is stuck to the bottom of the pan.
Step 7 :: For the Shrimp:
Next stir in whipping cream then add chicken bouillon seasoning and additional cajun seasoning to taste. The color of the sauce should be somewhat orangey from the seasonings.
Step 8 :: For the Shrimp:
Bring your heat to medium low and allow the sauce to simmer and thicken for about 10 minutes. If still not thick enough for your preference, add a bit of flour or cornstarch to the sauce to thicken quicker. Allow it to cook for an additional minute or so then turn off heat.
Step 9 :: For the Shrimp:
Stir back in the shrimp and coat with sauce. Next sprinkle bacon and parsley on top.
Step 10 :: For the Grits
Cook cauliflower grits in the microwave according to package instructions, or until piping hot. Be careful of steam when opening the bag.
Step 11 :: For the Grits
Add contents to a bowl then whisk in butter, both cheeses, heavy cream, garlic powder. Mash up the mixture a bit, or use a blender, to achieve your desired smoothness.
Step 12 :: For the Grits
Season with salt and pepper to taste and serve.
Step 13 :: Helpful Hints
To thaw frozen shrimp take them out of their bag and place them in a bowl under cold (not warm) running water. They should be ready to go in just a few minutes!
All recipe ingredients should be cooked to a safe internal temperature according to USDA guidelines. After preparing a recipe, please store any leftovers in the refrigerator.