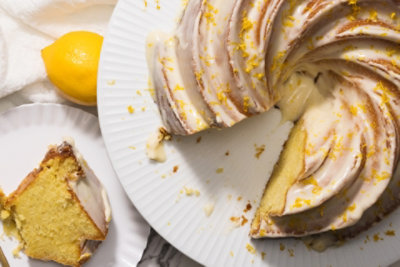 Lemon Olive Oil Cake
This Glazed Meyer Lemon Olive Oil Cake is sweet, wonderfully moist from the O Organics® olive oil, citrusy, and melt-in-your-mouth delicious. This recipe is perfect for Winter and Spring celebrations or simple Sunday afternoons! Recipe Courtesy: Jocelyn Delk Adams of Grandbaby Cakes
1 hour, 25 mins
Total cook time
Total original price
* Estimated price based on adding all ingredients to cart.
For the Cake
2 1/2 cups O Organics® all purpose flour
1 cup O Organics® fine yellow cornmeal
1 1/2 teaspoon baking powder
1 teaspoon kosher salt
2 1/4 cup O Organics® granulated sugar or cane sugar
1 lb meyer lemons, zested and juiced (3/4 to 1 cup of juice)
6 O Organics® large eggs room temperature
1 teaspoon O Organics® pure vanilla extract
1 1/4 cup O Organics® extra virgin olive oil
For the Syrup
1/4 cup meyer lemon juice
1/4 cup O Organics® granulated sugar or cane sugar
For the Glaze
1 cup O Organics® powdered sugar sifted
2 tablespoon O Organics® heavy whipping cream up to 3 tablespoons
1 teaspoon O Organics® pure vanilla extract
Cooking Instructions
Step 1
Preheat the oven to 350 degrees. Grease a 12 cup Bundt pan with butter and a little flour.
Step 2
In a small bowl, combine the flour, cornmeal, baking powder, and salt. Set aside.
Step 3
In a large bowl, whisk together the sugar and lemon zest. Add the eggs, one at a time, fully incorporating after each addition. Whisk the eggs and sugar together until the eggs aerate, thicken and lighten in color.
Step 4
Add the vanilla to the large bowl, whisking to fully combine. While still whisking, slowly drizzle in the olive oil.
Step 5
Alternate between adding the dry ingredients and the lemon juice to the rest of the ingredients. Mix until a smooth batter forms. Pour the batter into the prepared pan.
Step 6
Bake for 50-60 minutes, or until a toothpick inserted in the center comes back clean. Cool in the pan for 10 minutes. Invert the pan onto a wire cooling rack.
Step 7
Place lemon juice and sugar into a small saucepan. Cook over medium heat, stirring often, until simmering and all sugar has dissolved.
Step 8
While the cake is still hot, poke it with a toothpick or skewer and immediately brush with syrup.
Step 9
Allow the cake to cool completely.
Step 10
Place powdered sugar, cream, and vanilla into a 2 cup measuring cup. Stir with a fork until fully combined. Drizzle over cake.
Step 11
Top the cake with any leftover lemon zest you might have and serve!
Step 12 :: Helpful Hints
When it's not being served, store the cake at room temperature in an airtight container or cover it tightly with plastic wrap. An olive oil cake will keep for 3 days. After that, it's best to refrigerate it for up to 2 more days.
Step 13 :: Helpful Hints
Alternatively, you can freeze lemon olive oil cake for up to 3 months. To do so, double wrap it with cling film (plastic wrap) and a layer of foil. Thaw at room temperature for 3-4 hours, or until soft and tender again.
All recipe ingredients should be cooked to a safe internal temperature according to USDA guidelines. After preparing a recipe, please store any leftovers in the refrigerator.