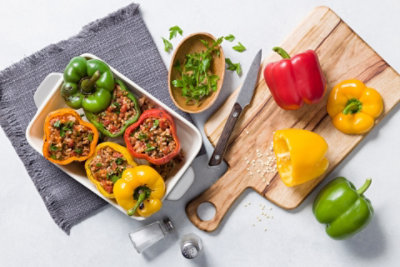 Zesty Stuffed Bell Peppers
A summary of the recipe - These Zesty Stuffed Bell Peppers are packed full of flavor and the perfect weeknight dinner!
Total original price
* Estimated price based on adding all ingredients to cart.
Main
1 tablespoon plus 1/2 teaspoon kosher salt, divided
4 medium bell peppers, tops, ribs, and seeds removed
1 tablespoon olive oil
1/2 cup chopped onion
1 pound mild or spicy ground Italian sausage
4 cracked wheat rolls
1 cup cooked rice
1/4 teaspoon ground black pepper
3 tablespoons chopped parsley
Optional
4 tablespoons Lucerne® Shredded Cheese, to top
Cooking Instructions
Step 1
Preheat oven to 350 degrees. In a 5 quart pan, bring 4 quarts water to a boil over medium-high heat. Add 1 tablespoon kosher salt and stir. Add peppers and cook for 3-5 minutes. Drain and rinse in cold water. Set aside.
Step 2
Preheat a large pan over medium heat. Add olive oil, onion and remaining 1/2 teaspoon salt. Cook onion for 3-4 minutes, until opaque and slightly caramelized. Add sausage and cook until no longer pink. Stir to combine meat mixture with tomatoes, rice and black pepper. Divide mixture evenly into pepper shells.
Step 3
Spray a square baking dish with nonstick spray and place peppers in pan. Bake uncovered for 30-35 minutes until hot. Sprinkle with fresh parsley. Serve.
Step 4 :: Helpful Hints
Like things a little more spicy? Substitute cayenne pepper for the black pepper.
Step 5 :: Helpful Hints
Any grated or shredded cheese can be added to the top during the last 5 minutes of baking to add an extra gooey element to the peppers!
All recipe ingredients should be cooked to a safe internal temperature according to USDA guidelines. After preparing a recipe, please store any leftovers in the refrigerator.