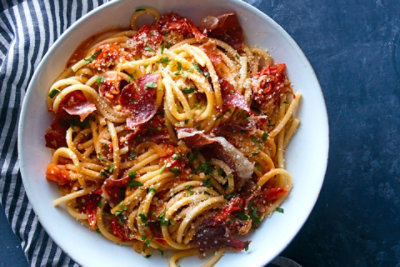 Crispy Prosciutto Amatriciana with Cherry Tomatoes
Packed with Parmesan and rich cured pork, Amatriciana is one of Italy's most iconic tomato sauces (Chef Giuseppe should know!). Here, he swaps in customer-beloved crispy prosciutto, and serves the aromatic sauce over traditional bucatini—long strands with a hole (buco) running through the center. Grab a helper to join you in the kitchen, and you'll be twirling your forks in no time.
Total original price
* Estimated price based on adding all ingredients to cart.
Main Ingredients
4 ounces prosciutto
1/4 ounce parsley
1 yellow onion
2 cloves garlic
2 pints cherry tomatoes
1 pound bucatini
1 cup white wine
1 teaspoon crushed red pepper
4 ounces grated Parmesan cheese
olive oil
kosher salt
black pepper
Cooking Instructions
Step 1
Bring a large pot of water to a boil over high heat. Heat 1 tablespoon olive oil in a large nonstick pan over medium-high heat. When oil is shimmering, add prosciutto in a single layer and cook, working in batches as needed, until crisp and curling at edges, 1-2 minutes per side. Using tongs or a fork, transfer prosciutto to a paper towel–lined plate to drain. Reserve fat in pan, off heat, for Step 4.
Step 2
Rinse all produce. Roughly chop parsley leaves and stems (the stems are actually quite tender, so we've kept them here for extra flavor and aroma). Peel onion, halve, and thinly slice. Thinly slice garlic. Pat cherry tomatoes dry with paper towel—removing excess moisture prevents a messy splatter when they're added to the hot pan in Step 4.
Step 3
Season boiling water generously with salt. Stir in bucatini and cook until al dente, 9 minutes (move on to the next step—but don't forget to come back!). Reserve .5 cup pasta cooking water, then drain bucatini and return to pot, off heat (see recipe tip).
Step 4
While pasta cooks, return pan from prosciutto to medium-high heat. When fat is sizzling, add onion, garlic, and whole cherry tomatoes and sauté, stirring occasionally, until softened, 4 minutes. Add white wine and crushed red pepper (see recipe tip) and cook until liquid is reduced by half, 2-3 minutes.
Step 5
Once liquid is reduced by half, press cherry tomatoes to release their juices and cook until saucy, about 5 minutes more. Season with .5 teaspoon salt and black pepper, then remove pan from heat. Call on an eager helper for this part: Crumble half of prosciutto into pot with pasta, then stir in cherry tomato sauce and half of Parmesan. Adding 1 tablespoon at a time, stir in reserved pasta cooking water until sauce is silky and clings to noodles.
Step 6
Divide crispy prosciutto Amatriciana among roomy serving bowls. Top with remaining prosciutto and remaining Parmesan, then garnish with parsley (also a great task for helping hands). Buon appetito!
All recipe ingredients should be cooked to a safe internal temperature according to USDA guidelines. After preparing a recipe, please store any leftovers in the refrigerator.