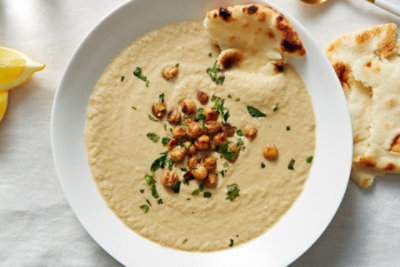 Curried Cauliflower Soup with Crispy Chickpeas and Toasted Naan
As December rolls around, we can't get enough of warm, comforting soups. Here, we're tossing cauliflower with vindaloo curry paste, then roasting and blending it with coconut milk and vegetable stock to create a luscious puréed soup. The cozy bowls are garnished with bright cilantro, plus oven-crisped chickpeas spiced with coriander and cumin for crunchy texture. On the side, there's plenty of toasted naan for dipping.
Total original price
* Estimated price based on adding all ingredients to cart.
Main Ingredients
4 naan breads
2 pounds cauliflower florets
1 lemon
1/8 ounce cilantro
2 red onions
1 cup chickpeas
1/4 cup vindaloo curry paste
2 teaspoons mustard powder
1/2 teaspoon ground coriander
1/2 teaspoon ground cumin
1/2 teaspoon ground ginger
2 13.5-ounce cans lite coconut milks
8 ounces vegetable stock
olive oil
kosher salt
black pepper
Cooking Instructions
Step 1
Preheat oven to 450°F. Stack naan, wrap in foil, and set aside. Rinse cauliflower florets and cut to .5-inch pieces, if needed. Cut lemon into 4 wedges and set aside for serving. Rinse cilantro and roughly chop leaves, discarding stems. Peel onions, halve, and thinly slice. Rinse chickpeas and pat dry with a paper towel, then transfer to a baking sheet and set aside until Step 3.
Step 2
In a large bowl, whisk together curry paste, mustard powder, .25 cup olive oil, .5 teaspoon salt, and pepper as desired to fully combine. Add cauliflower and onions to bowl with sauce and toss to fully coat. Transfer to a separate baking sheet, spreading in a single layer. Roast until golden, 12-15 minutes. Then, remove from oven and set aside.
Step 3
While cauliflower roasts, add spice mix, 1.5 tablespoons olive oil, .25 teaspoon salt, and pepper to baking sheet with chickpeas. Toss to fully coat, then spread in a single layer. Transfer spiced chickpeas and naan to oven with cauliflower and bake until naan is warmed through, 5-8 minutes, and chickpeas are browned and crisp, 15-18 minutes (see Recipe Tip). Use any remaining downtime to set the table.
Step 4
Once roasted, transfer cauliflower and onions to a blender or food processor. Add coconut milk (see Recipe Tip) and vegetable stock and pulse until smooth. 
Step 5
Transfer soup to a large pot and place over medium-high heat. Cook, stirring, until warmed through, 5-7 minutes. Season with 1 teaspoon salt and pepper as desired. Meanwhile, tear naan into bite-size pieces.
Step 6
Taste soup and add salt and pepper as desired. Divide curried cauliflower soup among serving bowls. Garnish with cilantro and roasted chickpeas. Serve with toasted naan for dipping and lemon wedges for squeezing over. Enjoy!
All recipe ingredients should be cooked to a safe internal temperature according to USDA guidelines. After preparing a recipe, please store any leftovers in the refrigerator.