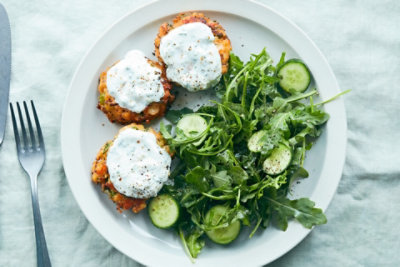 Salmon Croquettes with Creamy Dill Sauce
These salmon croquettes are a perfect marriage of French and southern cuisines. Chef Shanna combines ground salmon with whole-grain mustard, fresh herbs, and garlic, then forms the mixture into cakes. They're rolled in breadcrumbs and egg, shallow-fried until crisp and golden, and drizzled with a tangy, herby sour cream sauce for restaurant-worthy presentation.
Total original price
* Estimated price based on adding all ingredients to cart.
Main Ingredients
4 Persian cucumbers
1/2 ounce chives
1/2 ounce dill
1 lemon
4 scallions
2 cloves garlic
3 tablespoons whole-grain mustard
2/3 cup panko breadcrumbs
1 1/4 pounds ground salmon
4 ounces sour cream
2 tablespoons Champagne vinegar
8 ounces baby arugula
canola oil
olive oil
2 eggs
kosher salt
black pepper
Cooking Instructions
Step 1
Rinse all produce. Cut cucumbers crosswise into .25-inch slices. Thinly slice chives. Roughly chop dill leaves and stems (the stems are quite tender, so we're leaving them in for extra flavor). Halve lemon. Trim and discard scallion roots and thinly slice.
Step 2
Mince garlic and, still on cutting board, sprinkle over .125 teaspoon salt. Using a large knife, carefully scrape over mixture at a 45° angle, pressing down. Repeat until garlic is broken down and a paste forms.
Step 3
In a large bowl, combine mustard, breadcrumbs, scallions, half of herbs, half of garlic paste, 2 eggs, 1 teaspoon salt, and pepper as desired, then add salmon. Using your hands, mix well, then form into 12 equal patties, about .75-inch thick. Place on a plate and cover with plastic wrap. Chill in freezer until firm, 5-10 minutes (see recipe tip).
Step 4
While croquettes chill, in a small bowl, whisk together sour cream, remaining herbs, remaining garlic paste, juice of 1 lemon, .5 teaspoon salt, and pepper as desired. Set creamy dill sauce aside until ready to serve. In a separate large bowl, whisk together Champagne vinegar, .25 cup olive oil, .25 teaspoon salt, and pepper as desired and set aside.
Step 5
In a large high-sided pan, add enough canola oil to reach about .25-inch up sides of pan, then place over medium-high heat. When oil is shimmering, carefully add croquettes in a single layer. Fry, working in batches as needed, until croquettes are golden and salmon is cooked through, about 3 minutes per side. Using a slotted spoon, transfer croquettes to a paper towel–lined plate to drain (see recipe tip).
Step 6
Pat arugula dry with paper towel and add to bowl with vinaigrette, along with cucumbers. Toss to coat. Divide salad among serving plates. Add salmon croquettes to plates with salad, top with creamy dill sauce, and dig in!
All recipe ingredients should be cooked to a safe internal temperature according to USDA guidelines. After preparing a recipe, please store any leftovers in the refrigerator.