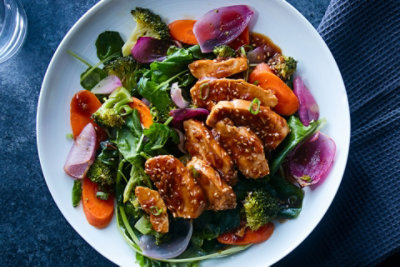 Sesame-Ginger Chicken with Roasted Broccoli, Carrots, and Kale
Here, Chef Giuseppe riffs on sesame chicken, but keeps things light and fresh with plenty of veggies. Broccoli, carrots, and red onion are roasted until tender and beginning to caramelize, then tossed with kale and a tangy rice wine vinaigrette. On top, pan-roasted chicken is thinly sliced and coated in a sweet and savory sauce of soy, sesame oil, pickled ginger, and agave.
Total original price
* Estimated price based on adding all ingredients to cart.
Main Ingredients
4 boneless skinless chicken breasts
10 ounces broccoli florets
1 pound carrots
4 scallions
2 tablespoons pickled ginger
2 red onions
2 tablespoons rice wine vinegar
3 ounces baby kale
3 teaspoons agave
1 tablespoon cornstarch
1 tablespoon toasted sesame seeds
2 tablespoons sesame oil
1/4 cup gluten-free soy sauce
canola oil
kosher salt
black pepper
Cooking Instructions
Step 1
Preheat oven to 450°F. Pat chicken dry with paper towel (see recipe tip). Heat 1 tablespoon canola oil in a large pan over medium-high heat. When oil is shimmering, add chicken. Sear, working in batches and adding oil in between as needed, until cooked through and no longer pink, about 6 minutes per side. Transfer chicken to a plate, cover with foil to keep warm, and set aside, reserving pan for Step 5.
Step 2
While chicken cooks, rinse all produce. Cut broccoli into .5 inch–wide florets. Thinly slice carrots crosswise on a diagonal (see recipe tip). Trim and discard scallion roots. Cut scallion whites and light greens into 2-inch pieces; thinly slice scallion dark greens, keeping separate. Mince pickled ginger. Peel onions, quarter, and separate layers.
Step 3
On a baking sheet, toss broccoli, carrots, onions, and scallion whites and light greens with 2 tablespoons canola oil, .5 teaspoon salt, and pepper as desired. Arrange in a single layer and roast, stirring halfway through, until golden and tender, 15-18 minutes total.
Step 4
While vegetables roast, in a large bowl, whisk together rice wine vinegar and .25 cup canola oil to combine, then add kale and set aside for Step 6. In a small bowl, whisk together agave, spice mix, and .5 cup water for the next step.
Step 5
Return pan from chicken to medium-high heat with sesame oil. When oil is shimmering, add pickled ginger. Cook, stirring, until fragrant, 1 minute. Add soy sauce and cook, stirring, to combine, 30 seconds. Whisk in agave-cornstarch mixture and cook, whisking frequently, until thickened, about 30 seconds more. Remove pan from heat.
Step 6
Thinly slice chicken, add to pan with sesame-ginger sauce, still off heat, and toss to coat. Once roasted, add broccoli, carrots, and onions to bowl with kale; toss to coat and wilt kale slightly. Transfer roasted vegetables and kale to serving plates, top with sesame-ginger chicken, and garnish with scallion dark greens. Dig in!
All recipe ingredients should be cooked to a safe internal temperature according to USDA guidelines. After preparing a recipe, please store any leftovers in the refrigerator.