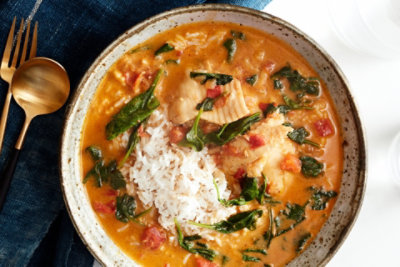 Thai Fish Curry with Kaffir Lime and Jasmine Rice
This repeat favorite dish was inspired by the coconut fish curries of Thai cuisine. We love making curry because it involves slowly building layers of flavor—first, with aromatics like ginger and onion; then a dollop of spicy and complex red curry paste; then splashes of coconut milk and vegetable stock. Those same flavors infuse tender fish when it's poached in the broth, and an obligatory side of steamed rice soaks up every last drop.
Total original price
* Estimated price based on adding all ingredients to cart.
Main Ingredients
1 1/2 cups jasmine rice
7 ounces baby spinach
4 tomatoes
1/2 ounce ginger
1 red onion
1 1/2 tablespoons red curry paste
2 14-ounce cans lite coconut milks
16 ounces vegetable stock
2 tablespoons light brown sugar
1 1/2 tablespoons fish sauce
4 kaffir lime leaves
1 1/4 pounds tilapia
1 1/2 tablespoons canola oil
kosher salt
black pepper
Cooking Instructions
Step 1
In a small pot, combine rice, 2.5 cups water, and .5 teaspoon salt and bring to a boil over high heat. Reduce heat to medium low, cover, and simmer until water is fully evaporated, 10-12 minutes. Remove pot from heat and let stand, still covered, for 10 minutes. Fluff rice with a fork, then cover to keep warm until ready to serve.
Step 2
While rice cooks, rinse spinach. Rinse tomatoes and cut into .5-inch dice. Trim and discard skin of ginger and mince. Peel onion and cut into small dice. 
Step 3
Heat 1.5 tablespoons canola oil in a large pot over medium heat. When oil is shimmering, add ginger and onion and sauté until softened, about 5 minutes. Add curry paste and cook, stirring, until coated, about 1 minute—red curry paste is flavorful, but not overly spicy. If you're sensitive to heat, use less, but keep in mind, it provides the dish's signature flavor!
Step 4
Add coconut milk, brown sugar, fish sauce, kaffir lime leaves, tomatoes, and vegetable stock to pot with curry base and stir to combine (see Recipe Tip). Increase heat to high and bring to a boil, then reduce heat to medium and simmer, stirring occasionally, until curry is thickened and flavors have melded, about 10 minutes. Season with .5 teaspoon salt and pepper as desired. 
Step 5
Increase heat under pot to medium high. Pat tilapia dry with paper towel and cut fillets in half crosswise. Season fish all over with .75 teaspoon salt and pepper as desired. When curry is bubbling, nestle fish into curry. Cook until fish is opaque, about 5 minutes (see Recipe Tip). Stir in spinach to wilt, about 30 seconds more. Remove pot from heat and, if desired, remove and discard kaffir lime leaves (see Recipe Tip).
Step 6
Spoon rice and Thai fish curry into roomy serving bowls. Enjoy your fragrant masterpiece. 
All recipe ingredients should be cooked to a safe internal temperature according to USDA guidelines. After preparing a recipe, please store any leftovers in the refrigerator.