Rx Blog: Flu Prevention for People with Diabetes
Albertsons Pharmacy

/

Jul 26th, 2018

Flu Prevention for People with Diabetes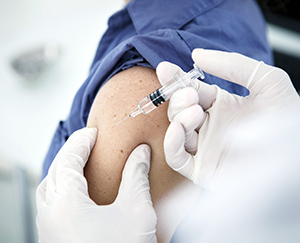 Although flu shots can't guarantee that you won't get sick during flu season, they can reduce your risk of contracting the flu
When it comes to getting the flu, people with diabetes may have more to worry about than people without diabetes. That's because diabetes, like other chronic diseases, can increase the risk of serious flu complications, including pneumonia, bronchitis, and ear and sinus infections.
Having the flu can also make it harder to control your blood sugar—illness can cause blood sugar to rise, but a low appetite might make you susceptible to low blood sugar, especially if you take medications to control your diabetes.
So, what can you do to help minimize your flu risk if you have diabetes?
Consider vaccination
The American Diabetes Association (ADA) and Centers for Disease Control and Prevention (CDC) recommend yearly flu shots for all people who are six months and older, especially people with diabetes. Although flu shots can't guarantee that you won't get sick during flu season, they can reduce your risk of contracting the flu and experiencing complications. The ADA also recommends that people with diabetes aged 2 through 64 get vaccinated against pneumonia. If you're over 65, it may be advisable to get revaccinated if it's been five years or more since your last pneumonia vaccine. Your doctor may also recommend a second type of pneumonia vaccine. You can visit the ADA's website for more information at http://www.diabetes.org.
Another helpful strategy is to encourage the people you live with to consider getting a flu shot, too: you're less likely to get the flu if the people around you don't have it.
While the ADA and CDC advise getting a flu vaccine in September, and ideally no later than the end of October, if you haven't gotten one yet, it's not too late—flu virus activity usually peaks in January or even later. Since it takes about two weeks to develop antibodies in response to the flu vaccine, you'll want to get yours before flu begins spreading in your community. If you aren't feeling well or are allergic to eggs or any of the ingredients in the vaccine, talk with your doctor before getting a flu shot.
Build immunity
Like everyone else, people with diabetes benefit from practicing healthy habits, especially during flu season: getting adequate sleep, managing stress, and eating a balanced diet, including plenty of fruits and vegetables, all may help build immunity. Incorporating the following elements into your balanced diet may also help protect you against infection:
Vitamin D. In one large study, having adequate blood vitamin D levels was inversely associated with a history of community-acquired pneumonia. However, randomized controlled trials are needed to evaluate whether vitamin D supplementation could reduce the risk of infections including pneumonia.
Probiotics. Not all germs are bad. Probiotics—supplements containing beneficial bacteria for our digestive tracts—may support the immune system and help protect against upper respiratory tract infections that can leave us at risk of getting the flu.
As always, be sure to talk to your doctor before starting a supplement regimen.
(Diabetes Care 2017;40)