3 Signature Spring and Summer Pasta Dishes
Elena Harrington

/

May 12th, 2016
Late spring and early summer introduce warmer weather, longer days and a plethora of fresh ingredients. The change of seasons welcomes a fresh, new menu full of seasonal produce and lighter fare. Enjoy the warmer weather and tastes of the season with these simple, quick pasta dishes complete with flavor, produce and refreshing, simple homemade dressings. Shop our Signature line of products, and serve these versatile, 15-minute pasta dishes as a side to your favorite grilled meats or as a light dinner entrée for warm spring and summer evenings.
Making your own vinaigrette is a great way to avoid added preservatives for fresh, delicious dressings. Using lemon in your dressings and marinades adds refreshing flavor and complements other seasonal produce, as well as garlic and herbs, very well. The pasta recipes below feature simple recipes for light vinaigrettes perfect for spring and summer dining.
Incorporate Fresh Lemon
This Spicy Lemon Pasta is light, fresh and packed with seasonal flavor. This simple homemade vinaigrette is made with fresh lemon juice, garlic, red pepper flakes and olive oil for a light, spicy summer dressing.
The homemade vinaigrette complements the spaghetti noodles, arugula and prosciutto perfectly. Top with Parmesan cheese for a delicious finishing touch. Serve this pasta dish as a side at your next barbecue or as a lighter dinner option on warm evenings dining outdoors. This dish pairs well with fresh squeezed lemonade and crisp white wines.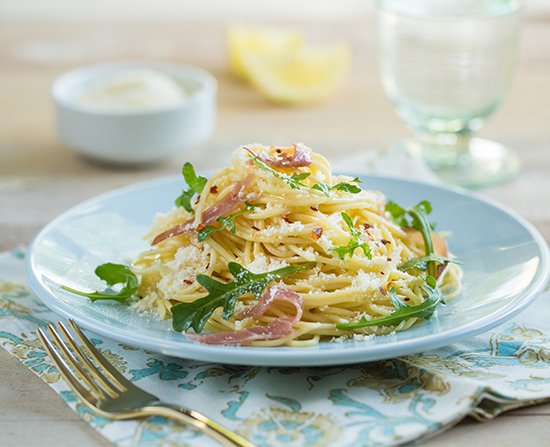 Pack with Produce
For a Greek-inspired spring and summer pasta dish, try this Roasted Red Pepper Pasta. Rotini pasta, English cucumber, marinated artichoke hearts, bell pepper, dill and feta create a produce-packed pasta base.
Roasted red peppers add depth and flavor to the refreshing homemade vinaigrette. Ready in just 15 minutes, this pasta dish makes a delicious vegetarian entrée and is also delicious served with grilled chicken.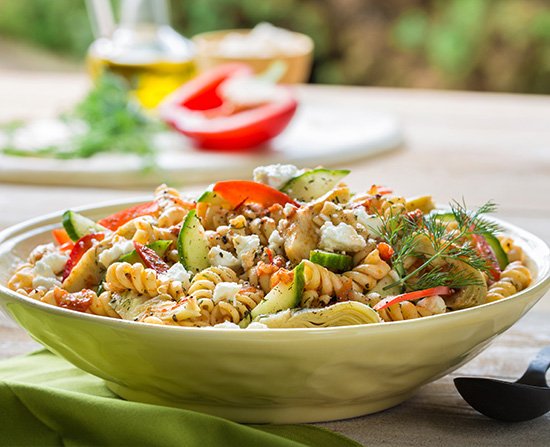 Add Asian-Inspired Flavor
Add Asian-inspired flavors to your summer menu. This Teriyaki Pasta is packed with flavor and a touch of sweetness. Spinach, fresh pineapple, carrots, jalapeño and chopped cashews create an incredible flavor composition of sweet, savory and a bit spicy. Serve this pasta at your next barbecue for a fresh take on traditional summer pasta salad.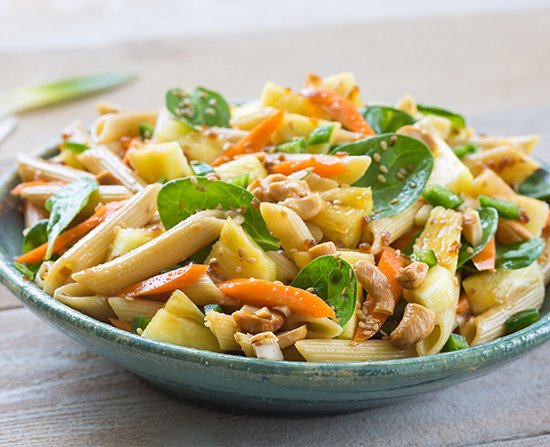 Celebrate spring and summer with your Signature moments shared over fresh, simple meals. For more seasonal entertaining and recipe inspiration, visit our Pinterest page!