Five Ways to Create the Perfect Smoothie Bowl
Elena Harrington

/

May 2nd, 2016
This season, revamp your daily smoothie with smoothie bowls! Made to be thicker than a traditional smoothie and eaten with a spoon, the smoothie bowl is versatile and packed with protein, produce and a plethora of nutrients. Read on for five ways to create the perfect smoothie bowl every time!
The Base: Thickening Protein
Create the base of your smoothie bowl with a thickening protein ingredient. Opt for nut butter, Greek yogurt or chia seeds to thicken your bowl with energy-sustaining protein. Almond and cashew butters add creaminess and flavor to your smoothie bowl, while chia seeds absorb liquid to thicken your smoothie with a dose of protein and fiber. Versatile plain Greek yogurt is also a great way to add protein and creaminess to any type of smoothie bowl. Try all these base thickening proteins in different smoothie bowls to mix up the menu.
Blend with Liquid
Adding liquid to your smoothie bowl helps achieve the perfect texture. Nut milks and fruit or vegetable juices are all great options to create the perfect smoothie bowl blend. Try almond milk, cashew milk or coconut milk for versatile, creamy dairy-free options that complement a variety of smoothie bowl flavors.
Go for Greens
From spinach to zucchini and kale, smoothie bowls are great ways to sneak more vegetables into your diet. Greens easily blend into smoothie bowls and are nearly undetectable. Add a variety of nutrients to your smoothie bowl with a serving of your favorite greens. Try adding a handful or two of spinach leaves and blend into your smoothie bowl for added vitamins and minerals.
Create Creaminess with Thickening Fruit
To create the thicker consistency needed for smoothie bowls, add fruit to thicken the texture. Add thickness and creaminess to any smoothie bowl with a banana or avocado. Adding frozen bananas also acts as ice in your bowl without watering it down to keep the consistency rich and creamy. You can even add frozen berries to thicken, as well. Try adding frozen blackberries as your thickening fruit for an antioxidant boost!
Top it with Nutrition
Once you have blended your smoothie bowl, place it in a bowl and top it with your favorite nutrition boosting toppings before serving. From coconut flakes to dark chocolate shavings, chia seeds, fresh fruit, nuts or granola, the superfood topping options are endless! Select what works best with your smoothie's flavor composition, and don't be afraid to use a variety of toppings for a beautiful, nutritious smoothie bowl!
Now that you know the basics of creating the perfect smoothie bowl, try some of our unique recipes below!
Try this Supergreens Superglow Smoothie Bowl to renew your classic green smoothie! Made with zucchini, spinach, pineapple and coconut milk, this smoothie bowl completely transforms your daily green juice for a lit-from-within glow!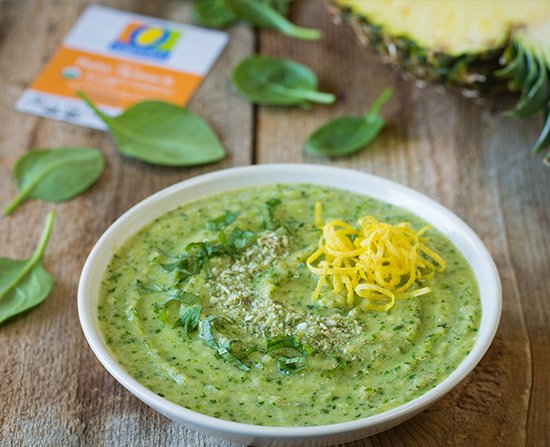 Create this simple Blackberry Crumble Smoothie Bowl with just four base ingredients! Frozen bananas, blackberries, coconut milk and cashew butter complete this delicious, creamy smoothie bowl. The four-ingredient crumble topping revamps topping options with oats, walnuts, maple syrup and cinnamon.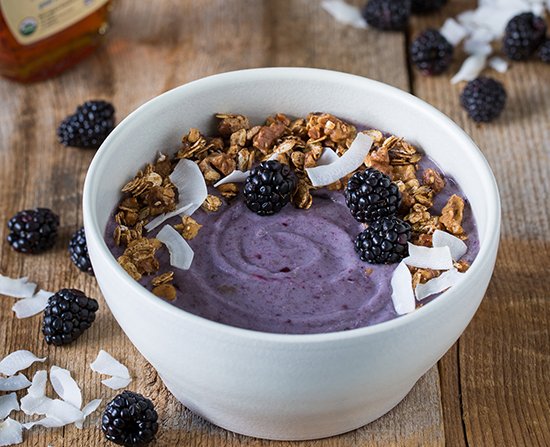 Kick-start your morning with this energizing Coffee Smoothie Bowl! Made with espresso powder, coconut milk, almond butter, dates and vanilla protein powder, this smoothie is a delicious way to revamp your morning coffee!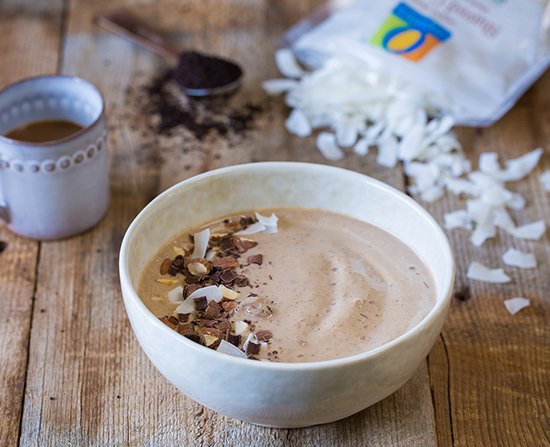 For more smoothie inspiration, visit our Pinterest board!