Summer Snacks the Kids Will Love
Elizabeth

/

Jun 17th, 2013
Summer Snacking: Nibbles, Dips, and Small Bites
High-energy eats for kids on the run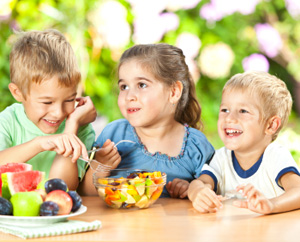 Chilled dips & blended drinks are a pleasing change of pace from the lunchbox doldrums
From the beach to the pool, camp to the playground, hiking trail to the Slip 'n Slide—summer means high-energy play for kids set free from school. Keep on hand a stash of cooling, nutritious snacks to satisfy ravenous appetites and picky palates.
Dip and sip
Chilled dips and blended drinks are a pleasing change of pace from the lunchbox doldrums.
Pineapple

–

yogurt

dip: Mix together 2 tablespoons (29 ml) of pineapple juice concentrate, 1 cup (236 ml) plain yogurt, 1/8 teaspoon (0.61 ml) vanilla, and 1/2 cup (118 ml) finely chopped, fresh pineapple. Serve with sliced

fruits

or

berries

.

Peanut butter

–

orange

dip: Mix 1/2 cup (118 ml) peanut butter with 2 tablespoons (29 ml) orange juice concentrate, 1 tablespoon (14.5 ml) brown

sugar

, and 1/3 cup (80 ml) orange juice. Run through food processor and accompany with

crackers

or sliced fruit.
Smoothies: Combine 1 cup (236 ml) of

apple

or

orange juice

with

blueberries

,

raspberries

, or

strawberries

, add ice, a touch of yogurt or silken

tofu

, and blend. For a creamier drink, replace juice with

milk

—regular,

soy

, or

rice

.
Stay cool
Entice kids to help you assemble these chilly treats.
Popsicles: Blend ice cream or frozen yogurt with

milk

,

soy milk

, or

rice milk

, and pour into popsicle molds. Use molds to make fresh fruit juice popsicles as well.
Fresh

fruit

salad: Cut up

apples

,

pineapple

,

bananas

,

oranges

, and

berries

. Throw in dried

cranberries

or raisins, and sunflower seeds or slivered almonds. Top with a dollop of yogurt.
Berry parfaits: Layer fresh

raspberries

,

cherries

, or

blueberries

with granola and

yogurt

or freshly whipped

cream

.
On the run
Traveling near or far by car, bike, train, or plane? Keep small hands busy with a selection of sturdy snacks.
Kathleen Finn is a Portland-area freelance writer and marketing consultant in the natural health industry who is an avid snacker, no matter what the season.