Whole Grains Serve-Up Heart Health
Elizabeth

/

Jan 27th, 2014
Love Your Heart with Whole Grains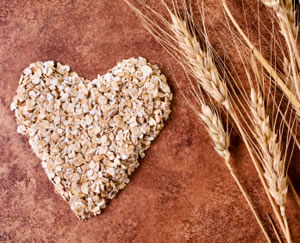 Just three servings of whole grains per day can significantly lower blood pressure, possibly preventing heart disease and stroke
Now there's even more evidence to support the recommendation to beef up on whole grains. A study of more than 200 people at risk for heart disease shows that just three servings of whole grains per day can significantly lower blood pressure, possibly preventing heart disease and stroke.
We've known for some time that whole grains can support overall health, with studies suggesting that they might help with everything from lowering cholesterol levels to improving insulin sensitivity and decreasing cancer risk.
The study published in the American Journal of Clinical Nutrition looked more closely at how whole grains might help improve heart health—by measuring blood pressure, cholesterol levels, markers of inflammation, and insulin sensitivity in 206 people between ages 40 and 65. All of the people were at somewhat high risk for heart disease; some were overweight, most were relatively inactive, and many had metabolic syndrome (a cluster of heart disease risk factors) or moderately elevated cholesterol levels.
After four weeks of eating a diet that included only refined grains, the people were split into two groups. One group was prescribed a diet rich in whole grains, including either three servings of whole wheat foods per day (70 to 80 grams of whole wheat bread and 30 to 40 grams of whole wheat cereals) or one serving of whole wheat and two servings of oats per day. The other group was instructed to continue eating refined grains.
Lowering blood pressure one bite at a time
After 12 weeks, systolic blood pressure decreased significantly among those people eating whole grains compared with those in the refined grains group. Reducing blood pressure by this amount could translate to a 15% drop in the incidence of heart disease and a 25% decrease in stroke.
Markers of inflammation and insulin sensitivity were not that different between groups, but cholesterol levels actually went down slightly in the refined grains group.
Intake of several vitamins, including vitamins B6 and D, was much lower in the whole grains group, presumably because of fortification of the refined grains. "Such fortification did not appear to have any cardiovascular benefits, however," said the study's lead author, Paula Tighe, MD. "This may indicate that the potential bioactivity of the micronutrients is more marked when part of the natural grain product is present compared with the fortified foods."
Getting your grains
Making whole grains a regular part of your diet is easier than ever, with whole grain versions of virtually every food popping up on grocers' shelves everywhere. Whole grain pastas are easy to find (and tastier than in the past), as are whole wheat and multigrain breads. White whole wheat flour can turn even the most finicky eater into a whole grain-lover.
(Am J Clin Nutr 2010;92:733–40)
Kimberly Beauchamp, ND, received her doctoral degree from Bastyr University, the nation's premier academic institution for science-based natural medicine. She co-founded South County Naturopaths in Wakefield, RI, where she practiced whole family care with an emphasis on nutritional counseling, herbal medicine, detoxification, and food allergy identification and treatment. Her blog, Eat Happy, helps take the drama out of healthy eating with real food recipes and nutrition news that you can use. Dr. Beauchamp is a regular contributor to Healthnotes Newswire.